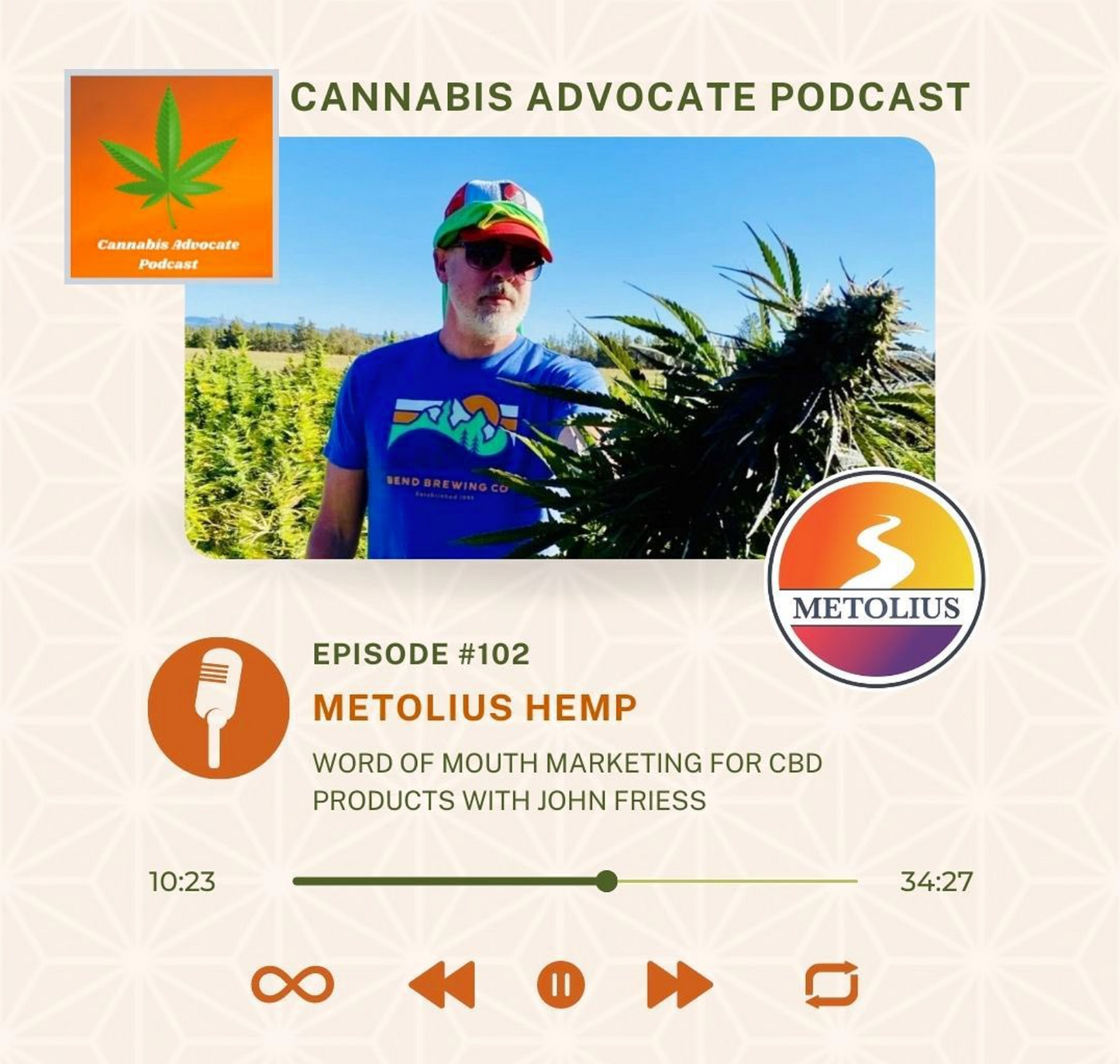 Cannabis Advocate Podcast - Episode #102

In a cacophony of self promotion in the CBD market, what's the best way to stand out from the noise? In today's episode our guest  John Friess returns to the podcast to provide marketing advce. John is a serial investor and entrepreneur, CEO and Founder of Metolius Hemp Company, a vertically-integrated health and wellness brand of premium cannabinoid vices for non-psychoactive use. Metolius Hemp Company works alongside family farmers to plant, grow, harvest, cure & craft all of their organic hemp flower & consumable products on their four-acre regenerative farm just outside of Bend, Oregon.  
CBD Marketing
In this episode we discussed a number of topics with a focus on word of mouth marketing for CBC products. Some of the questions I asked included:
It's been 5 years since the 2018 Farm Bill was signed and opened the doors for legal CBD products. Reflecting back, how has the CBD business evolved? How has it had an impact Metolius Hemp?
Sometimes I feel that CBD gets lost in all the noise and the benefits it can provide.
How has the legalization of Adult Use impacted CBD sales?
What kind of changes would you like to see in the 2023 Farm Bill? There has been a big push back on Delta 8 and Delta 9 derived products. What do you want to see?
In regards to making products, what insights have you come to that has guided new products?
CBD is available everywhere and not all the packaging looks sketchy. To the consumer it appears to be a commodity. How can a company stand out?
How to Connect with John Friess and Metolius Hemp
CBD and Hemp Farming links mentioned in the podcast:
Cannabis Advocate Podcast
The Cannabis Advocate podcast advocates for businesses in the cannabis industry and explores the unique challenges they face. Despite hurdles in legislation, regulation, and culture, there are tremendous opportunities for growers, manufacturers and retail sellers of cannabis products. Many of these issues are unique to the cannabis industry. This podcast speaks to these common concerns and shares stories of success.